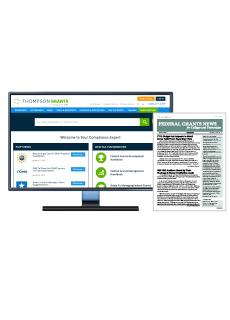 Thompson Grants' Guide to Managing Federal Grants for Colleges and Universities is designed to help those responsible for federal fund management on campus perform effectively during one of the most challenging periods ever for the field of grants management. In addition to the normal risks that colleges and universities face, OMB grant reforms have changed the way institutions of higher education must handle time and effort reporting, procurement under grants, direct charging certain costs, single audit preparations, subrecipient monitoring and much more. The Guide provides the practical information grants managers and sponsored research administrators need to help limit their institution's risk of disallowed costs and avoid the loss of federal funding and public relations nightmares.
The Guide to Managing Federal Grants for Colleges and Universities is one of three handbooks that make up the compliance guidance in the Thompson Grants Compliance Expert for Colleges and Universities – an all-in-one solution that will cover your institution's compliance needs throughout the entire grants lifecycle, from pre-award to post-award and closeout. Click here to learn more.
---
Benefit From:
Comprehensive and easy-to-understand compliance guidance tailored specifically for Colleges and Universities – empowering you with the knowledge you need to confidently manage your federal funds
Federal Grants News – an informative monthly newsletter (delivered ten times a year in print to your mailbox, emailed by PDF and archived on the subscriber-only website) that monitors the entire federal grants scene, covering events unfolding in Washington and their likely impact on your institution
Federal Agency Weekly – a weekly email that permits subscribers to track federal grants policy issuances, rulemakings and guidance development from NIH, NSF, DoD, NASA, OMB, Grants.gov, OIG and numerous other government agencies and offices, providing you with those most relevant information regarding grants management on campus, all listed in one place to save you and your staff hours of time and effort
Practical Tools and Resources – including government forms and reports, useful links, templates, worksheets and tools, a ready-to-use sample audit checklist and more!
News and Expert Commentary – so you are always up-to-date and in-the-know about the latest single audit headlines and
how they impact you
One Centralized Location for All Relevant Guidance and Regulations – Quickly access GAO, OMB and Agency-specific guidance and say goodbye to hopping from site to site trying to find the information you need!
Rolling Updates as Regulations Change – ensuring the compliance information you rely on is always the most current
"My Research Folders" Feature – allowing you to quickly access handbook pages, news articles or regulation pages you've saved
---
Learn About:
Financial Management Systems
Procurement and Property Standards
Audit Resolutions
Time and Effort documentation
Cost Allowability
Performance Requirements for Both Program and Finance
And more!
---
About Your Subscription:
You will receive a print copy of the Guide to Managing Federal Grants for Colleges and Universities as well as access to the guide online at grants.complianceexpert.com. Your annual subscription also includes quarterly print and rolling digital updates, news, analysis, training tools, forms and more at no additional charge for the 12-month subscription period. If you have any questions or would like information about bulk pricing or site licenses, please contact Client Services by phone at 1.800.677.3789 or by email at service@thompson.com.