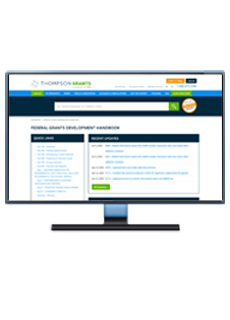 Available in print, online and dual formats, Thompson Grants' Federal Grants Development Handbook is the most comprehensive resource available designed to help navigate the entire pre-award stage of the grants lifecycle. The handbook contains clear and easy-to-understand information on a variety of pre-award topics like how to find the right funding opportunities for your organization, how to develop competitive grant proposals and what steps you need to take to comply with the uniform guidance's complicated rules governing the acquisition of federal funds. The handbook is updated as regulations change, so you'll stay on top of new grant guidance, merit criteria, risk-prevention procedures, regulation changes and more.
The Federal Grants Development Handbook is one of three handbooks that make up the compliance guidance in the Thompson Grants Compliance Expert – an all-in-one solution that will cover your organization's compliance needs throughout the entire grants lifecycle, from pre-award to post-award and closeout. Click here to learn more.
---
Benefit From:
Comprehensive and easy-to-understand pre-award compliance guidance – empowering you with the knowledge you need to effectively find, win and manage federal funds
Practical Tools and Resources – including government forms and reports, useful links, templates, worksheets and tools, a ready-to-use sample audit checklist and more!
News and Expert Commentary – so you are always up-to-date and in-the-know about the latest grants headlines and
how they impact you
One Centralized Location for All Relevant Guidance and Regulations – say goodbye to hopping from site to site trying to find the information you need!
Rolling Updates as Regulations Change – ensuring the compliance information you rely on is always the most current
"My Research Folders" Feature – allowing you to quickly access handbook pages, news articles or regulation pages you've saved
---
Learn About:
Complying with pre-award regulations in the uniform guidance
Finding opportunities from both private and public sources
Navigating government web portals
Federal application packages
Developing grant proposals
Satisfying performance criteria
Deciding to apply or not apply
Differentiating between types of funding instruments
Preparing to receive funds
And more!
---
About Your Subscription:
You will receive the one-volume Federal Grants Development Handbook in print and/or access to the manual online at grants.complianceexpert.com. Based on the delivery method you choose, your annual subscription also includes monthly print and/or rolling digital updates, news, analysis, training tools, forms and more at no additional charge for the 12-month subscription period. If you have any questions or would like information about bulk pricing or site licenses, please contact Client Services by phone at 1.800.677.3789 or by email at service@thompson.com.