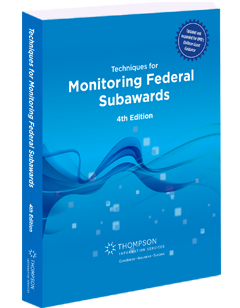 OMB's uniform guidance works to reduce both administrative burden and waste, fraud and abuse while requiring performance and results. It has always been your responsibility to assure federal awarding agencies that the funds you receive and pass on are spent according to the prescribed federal requirements, but now there are new expectations for pass-through entities. There's more reporting and increased monitoring, particularly for specific conditions, there's an obligation to assess subrecipient and contractor risk, more responsibility to manage and correct findings and deficiencies for subrecipients and contractors, and, simply put, more accountability for the performance of subrecipients and contracts that will affect your own single audit.
Techniques for Monitoring Federal Subawards is the most comprehensive reference book for pass-through entities, subrecipients and contractors alike and will cover you throughout the whole process. It even includes useful templates such as risk assessments, audit checklists, budget templates, monitoring visit form letters, sample subaward and contract agreements and more.

---
This Guide Will:
Clear up confusion by clearly describing the roles and responsibilities of both the pass-through entity and the subrecipient as well as the differences between a subrecipient and a contractor.
Guide subaward creation by outlining the key components, including the data elements required for a subaward agreement, regulatory and program requirements, the scope of work and budget, and administrative requirements, cost principles and audit requirements, all aligned with the provisions of the uniform guidance.
Present a variety of monitoring options, including: strategies pass-through entities should consider before selecting a monitoring activity; the various tools available, including single audits or program-specific audits where applicable, agreed-upon procedures engagements, onsite visits and desk reviews; and tips about choosing the most effective strategies.
Keep pass-throughs one step ahead of auditors by reviewing the aspects of monitoring procedures that auditors will test, identifying the types of findings auditors might report and offering descriptions of best practices to avoid findings.
Provide templates that pass-throughs need to properly monitor subrecipients that can serve as a toolkit for pre-award, post-award and audit requirements as well as revised boilerplate subaward and contract agreements, including new fixed-amount awards.
---
Learn About:
Roles and Responsibilities of Key Participants
The Subaward Agreement, Contract Agreement and Fixed Amount Subaward Agreement
Differences Between Subawards and Contracts
Risk Assessments — Specific Conditions and Remedies
Effective Monitoring Procedures
Communication Between Pass-Through Entities and Subrecipients
Monitoring Activities and Auditor Follow-up
How to Write Subaward Agreements
Troubleshooting Subrecipient Monitoring
Federal Cash Management — What You Should Know
Issues of Accountability and Transparency: What's On the Horizon – The DATA Act
And more!
---
About the Book:
Techniques for Monitoring Federal Subawards is a 250-page softbound desktop guide. It is also available online as part of the Thompson Grants Compliance Expert – an all-in-one solution that will cover your organization's compliance needs throughout the entire grants lifecycle, from pre-award to post-award and closeout. Click here to learn more.
If you have any questions or would like information about bulk pricing, please contact Client Services by phone at 1.800.677.3789 or by email at service@thompson.com.