THOMPSON GRANTS COMPLIANCE SOLUTIONS
Equip your team with comprehensive and easy-to-understand compliance guidance that has helped awardees across the country expertly manage funding for over 45 years.
Why Thompson Grants Compliance Solutions?
Thompson Grants, a division of CBIS, has been providing grants administrators, program managers and financial managers with trusted analysis on the most pressing grants compliance issues since 1972. Our comprehensive Compliance Solutions cover the entire grants lifecycle from pre-award through closeout and will help you make sense of the confusing and complicated task of complying with the uniform guidance.
---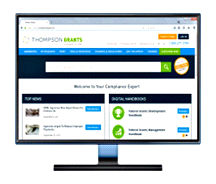 The Thompson Grants Compliance Expert puts the critical information you need about the far-reaching impact of the uniform guidance at your fingertips in a convenient digital format so you can confidently navigate the entire grants lifecycle — from finding federal grant opportunities to submitting your closeout documents —and stay up-to-date on how the complicated rules affect you and your funding every step of the way.
Subscribers Benefit From:
The entire Thompson Grants Compliance Expert Library, including:
The Complete Thompson Grants Webinar Archives
Practical Tools and Resources
News Alerts and Expert Commentary
"Ask the Expert" Function
Access for 3 Users
Special College and University Version Available!
---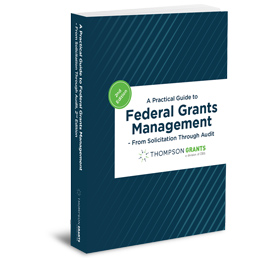 In addition to the all-in-one services of the Thompson Grants Compliance Expert, Thompson Grants maintains its longstanding history as a leading publisher in the grants community with a selection of cost-effective physical books designed to serve as quick-reference guides for grants professionals. These resources are perfect for training new team members on the grants life cycle, gaining specialized knowledge on an awarding agency and referencing whenever an everyday compliance question comes up.
Thompson Grants Compliance Guides include:
Let's Write a Grant!
A Practical Guide to Grants Management – From Solicitation Through Audit
Techniques for Monitoring Federal Subawards
Department of Education Compliance Directory
And more!