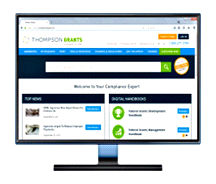 As you work to understand OMB's landmark shift from compliance expectations to performance measures, a subscription to the Thompson Grants Compliance Expert will equip your team with comprehensive and easy-to-understand compliance guidance that has helped awardees across the country to expertly manage funding for over 40 years.
The Thompson Grants Compliance Expert puts the critical information you need about the far-reaching impact of the uniform guidance at your fingertips in a convenient digital format so you can confidently navigate the entire grants lifecycle — from finding federal grant opportunities to submitting your closeout documents — and stay up-to-date on how the complicated rules affect you and your funding every step of the way.
---
Benefit From:
The entire Thompson Grants Compliance Expert Library, including:
The Complete Thompson Grants Webinar Archives – with 24/7 access to 40+ on-demand training webinars covering a wide variety of topics.
Practical Tools and Resources – including government forms and reports, useful links, templates, worksheets and tools, a ready-to-use sample audit checklist and more!
News Alerts and Expert Commentary – so you are always up-to-date and in-the-know about the latest grants headlines and how they impact you.
"Ask the Expert" Function – like having a personal hotline to our experts so you can get your organization's specific questions answered!
Access for 3 Users – make sure your colleagues have the latest intel on the regulations and best practices, too.
Special College and University Version Available! The Thompson Grants Compliance Expert for Colleges and Universities is designed to help you through these complex times for grants managers on campus and to manage federal grants more effectively. You'll also receive the monthly Federal Grants News in print, which covers events unfolding in Washington and their likely impact on your institution, and the Federal Agency Weekly email alert, tracking federal grants policy issuances, rulemakings and guidance development from numerous government agencies and offices.
---
About Your Subscription:
You will receive one year of access to the Thompson Grants Compliance Expert, at grants.complianceexpert.com. Your annual subscription includes rolling updates, news, analysis, training tools, forms and more at no additional charge for the 12-month subscription period. If you have any questions or would like information about multiple user discounts or site licenses, please contact Client Services by phone at 1.800.677.3789 or by email at service@thompson.com.