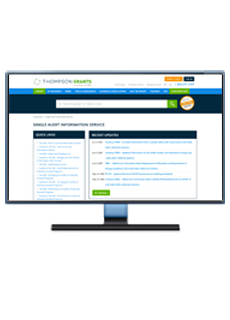 Available in print, online and dual formats, Thompson Grants' Single Audit Information Service breaks down in easy-to-understand language what the single audit requirements in OMB's uniform guidance mean to you. The Service is the most extensive and easy-to-use resource of its kind and is designed to help grant recipients and auditors alike take the steps needed to stay in compliance with the detailed rules governing how to prepare for and administer single audits. Keep up with the changes that impact audits under OMB's new uniform grant guidance with rolling updates as regulations change so you are abreast of all new grant reform and its impact on single audit requirements.
The Single Audit Information Service is one of three handbooks that make up the compliance guidance in the Thompson Grants Compliance Expert – an all-in-one solution that will cover your organization's compliance needs throughout the entire grants lifecycle, from pre-award to post-award and closeout. Click here to learn more.
---
Benefit From:
Comprehensive and easy-to-understand single audit compliance guidance – empowering you with the knowledge you need to effectively prepare for or administer single audits
Practical Tools and Resources – including government forms and reports, useful links, templates, worksheets and tools, a ready-to-use sample audit checklist and more!
News and Expert Commentary – so you are always up-to-date and in-the-know about the latest single audit headlines and
how they impact you
One Centralized Location for All Relevant Guidance and Regulations – Quickly access GAO, OMB and Agency specific guidance and say goodbye to hopping from site to site trying to find the information you need!
Rolling Updates as Regulations Change – ensuring the compliance information you rely on is always the most current
"My Research Folders" Feature – allowing you to quickly access handbook pages, news articles or regulation pages you've saved
---
Learn About:
The Basics of Audit Requirements
Arranging for Audits
What is Reviewed in an Audit
Contents of the Audit Reporting Package and How It's Used
Audit Follow-Up
Monitoring Subrecipients
Technical Assistance Materials
And more!
---
About Your Subscription:
You will receive the Single Audit Information Service in print and/or access to the manual online at grants.complianceexpert.com. Based on the delivery method you choose, your annual subscription also includes monthly print and/or rolling digital updates, news, analysis, training tools, forms and more at no additional charge for the 12-month subscription period. If you have any questions or would like information about bulk pricing or site licenses, please contact Client Services by phone at 1.800.677.3789 or by email at service@thompson.com.